5 Bubble Shooter Games for Money to Play on Your Phone
We foster relationships with brands we use and trust. The testimonials on our site represent real experiences, but they don't guarantee you'll achieve similar results. When you make purchases through our links to our partners, we may earn a commission. Your support helps us continue this work. You can read our full disclosure here.
Playing a classic bubble shooter game is no longer just a mindless way to pass the time. You can actually turn this hobby into an income.
Mobile devices have made these games more accessible than ever, giving gamers access from anywhere.
5 Bubble Shooter Games You Can Play for Real Money
1. Bubble Cash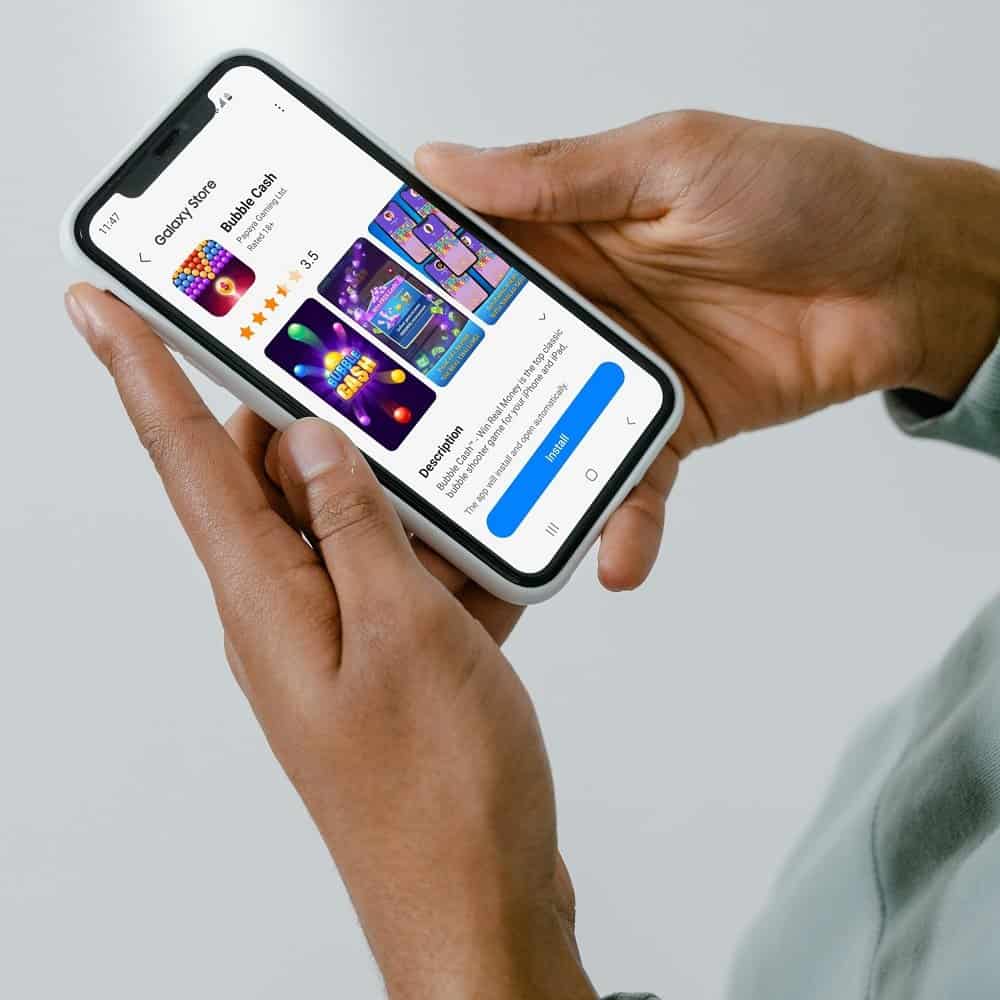 Papaya Gaming based Bubble Cash off of the classic arcade shooting game. This Israeli company also created the popular Solitaire Cash app.
Bubble Cash's objective is to match floating bubble groups by color to eliminate them from the board before they reach the edge or the time runs out. The game is free to download from the Android Play Store and iOS App Store.
How the Game Works
Bubble Cash features both free and premium play options. Players battle against each other to be the first to clear the board by popping and blasting all of the bubbles.
The game primarily focuses on skill-based multiplayer competitions. Regardless of how you play, the Bubble Cash app layout will be the same – the top three ranked finishers win.
Tournaments on offer include:
Freeroll Tournaments
Players enter using gems they collected during gameplay. The winning player receives a cash prize of up to $7.
You can participate without spending a dime, but still have the potential to win real money. The downside is, it takes a lot of time to earn enough gems to participate in these free roll events.
Paid Tournaments
Gamers must pay with both gems and real money to participate. The entry fee is often between $1 and $5, plus some in-game gems.
Players pay their entry fees using PayPal or Apple Pay. The prize pools for paid tournaments typically range from $7 to $50, but can occasionally jump to more than $80.
How It Differentiates From the Competition
Compared to similar Bubble Shooter games for money, Bubble Cash stands out thanks to its real cash prizes, engaging gameplay, user-friendly user interface, and flexible payment methods.
How Payment Works
Winners can cash out via bank transfer, Skrill, or PayPal, depending on their location. The minimum withdrawal amounts are based on payment type; payouts can take multiple business days to process.
Bubble Cash is FREE to download and play! However, cash tournaments are not available in the following states: AZ, AR, IA, LA, MD & SC.
Related: Is Bubble Cash Legit?
2. Monkey Bubble Shooter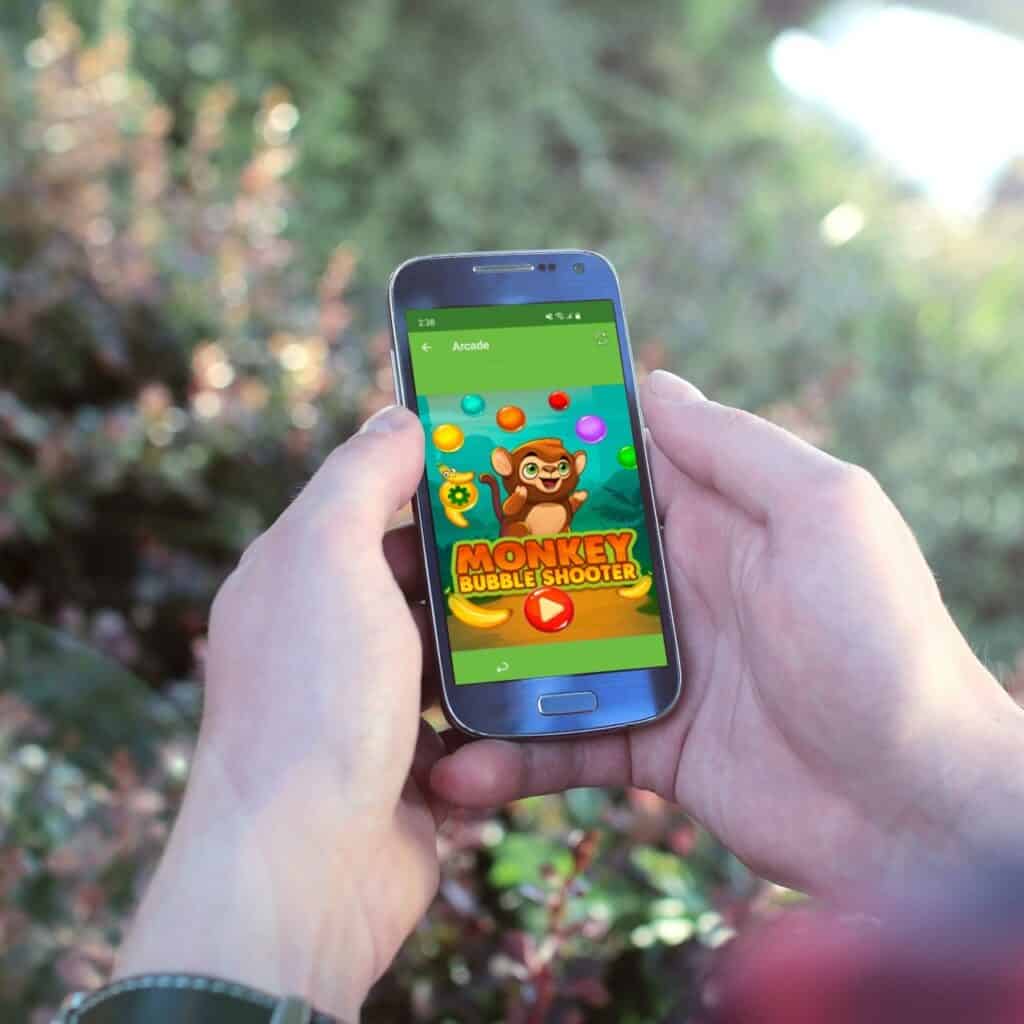 Players shooting their shot via the popular online game Monkey Bubble Shooter by InboxDollars aim to clear the board by firing colored bubbles out of a cannon. Matching three or more bubbles of the same color causes them to pop, and players win the game when all of the bubbles on the board are destroyed.
How the Game Works
Monkey Bubble Shooter puts the player in charge of the cute monkey firing bubbles from behind the cannon. As the player progresses through the game, more obstacles and bubble forms will appear, increasing the difficulty.
How It Differentiates From the Competition
What sets Monkey Bubble Shooter apart is its character-based gameplay, creative obstacles, and complex levels.
How Payment Works

This game is completely free to play on InboxDollars. Players earn Scratch & Win progress after each round. Every scratch card wins cash, though most are just a few cents each. Save your earnings for the chance to win higher cash prizes of up to $100.
Related: Match-3 Games That Pay Real Money
3. Bubble Shooter Extreme Game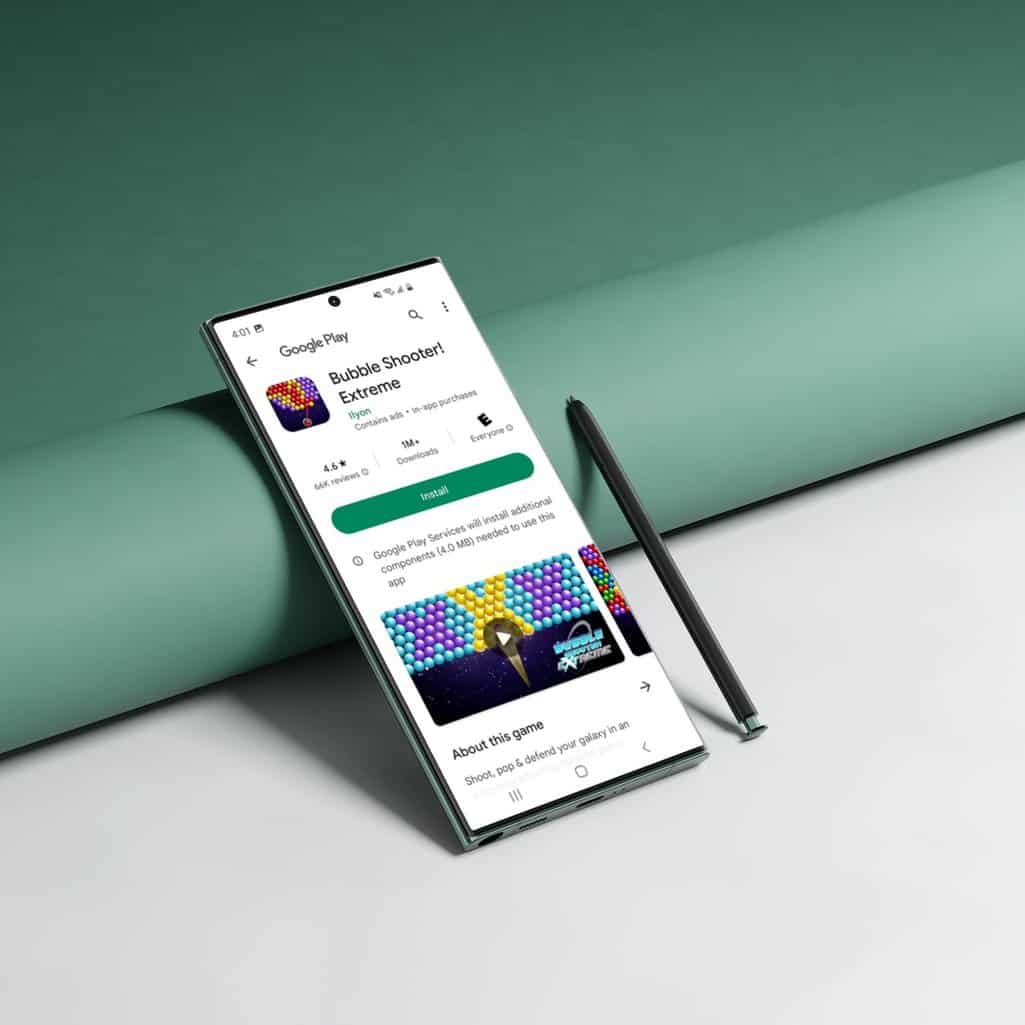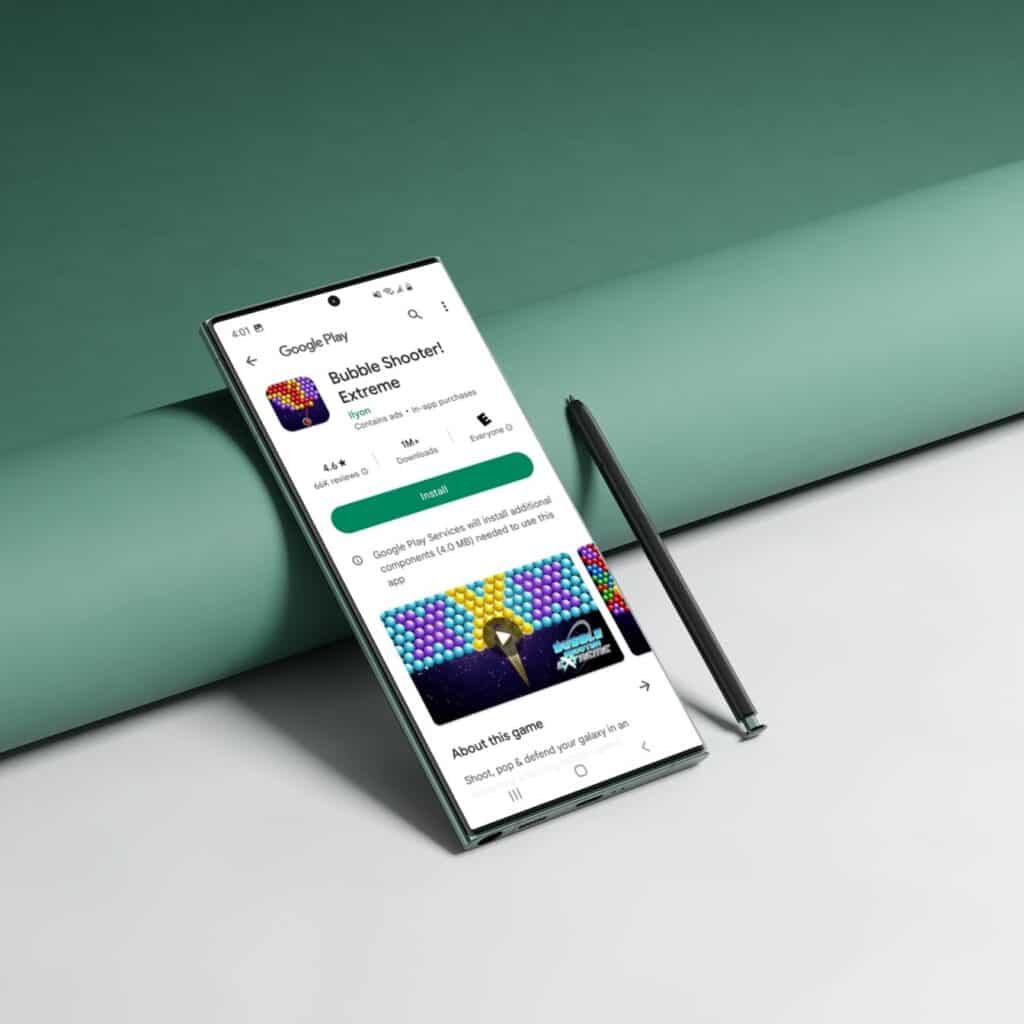 Bubble Shooter Extreme, a free-to-play puzzle game developed by Ilyon, is available on both iOS and Android devices.
How It Works
Swagbucks incentivizes gamers to play by offering reward points, which players can then redeem for prizes like free gift cards, and PayPal cash.
To earn money for playing Bubble Shooter Extreme, first sign up for a Swagbucks account and then access the game through the Swagbucks website or mobile app.
How It Differentiates From Competition
Thanks to its incentivization by Swagbucks, Bubble Shooter Extreme differs from other similar games due to its focus on rewards, challenges, community, and exclusive features.
How Payment Works
Swagbucks motivates players by offering rewards that gamers can redeem for various prizes, such as gift cards, cashback, and more.
Earn rewards: Play Bubble Shooter Extreme and complete various tasks or achieve in-game milestones.
Redeem rewards: Exchange your earnings for various prizes like cash or gift cards from popular retailers.
Receive payment: Swagbucks processes payments and send them to the designated accounts.
Related: Legit iPhone Games That Pay Real Money
4. Bubble Witch 3 Saga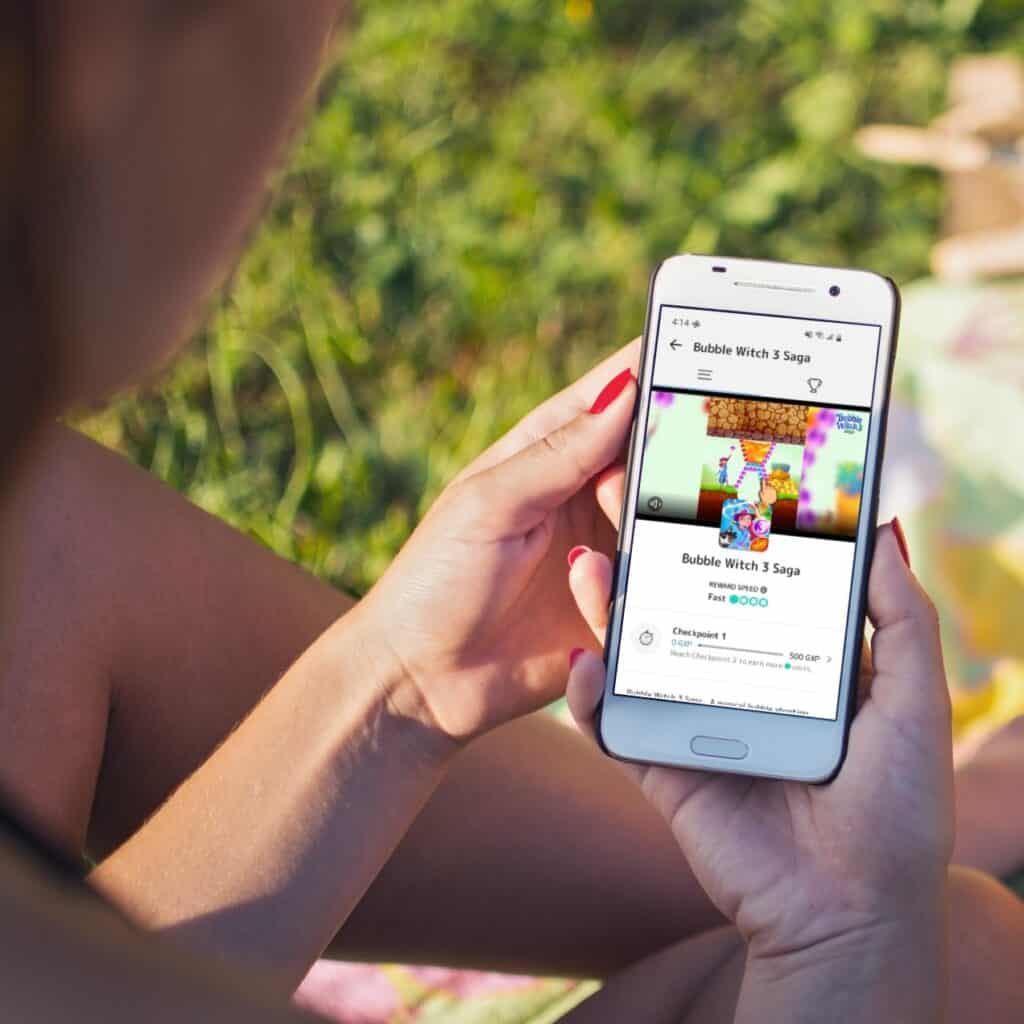 Bubble Witch 3 Saga – the third installment in the Bubble Witch series – is available to play on the Mistplay app. Its developer King is the same company that created the viral Candy Crush Saga.
How the Game Works
Download Mistplay and then search for the game to start helping the main character – a witch named Stella – save her magical world by popping bubbles and completing various challenges.
Gameplay involves shooting colored bubbles from Stella's wand and trying to match three or more bubbles of the same color to make them pop.
Players eventually encounter a variety of obstacles and challenges like locked bubbles or bubbles covered in spider webs. The game also features power-ups and special bubbles to help players more easily complete levels.
Bubble Witch 3 Saga is free to play, but includes in-app purchases that allow players to buy power-ups, extra lives, and other items to help them progress through the game.
How It Differentiates From Competition
Bubble Witch 3 Saga stands out from similar games due to its engaging storyline, variety of game modes, social component, and high-quality graphics and sound effects.
How Payment Works
Users earn Mistplay units by playing games, and can redeem these points for rewards including gift cards for popular retailers like Amazon, Walmart, and Starbucks.
Players redeem their points through the Mistplay app. The user must have enough points to meet the redemption threshold for the specific retailer. For example, an Amazon gift card redemption starts at 50 cents, while a PayPal redemption starts at $10. Members receive the credit electronically within a few days.
Related: Best Android Game Apps That Pay Real Money
5. Power Pop Blast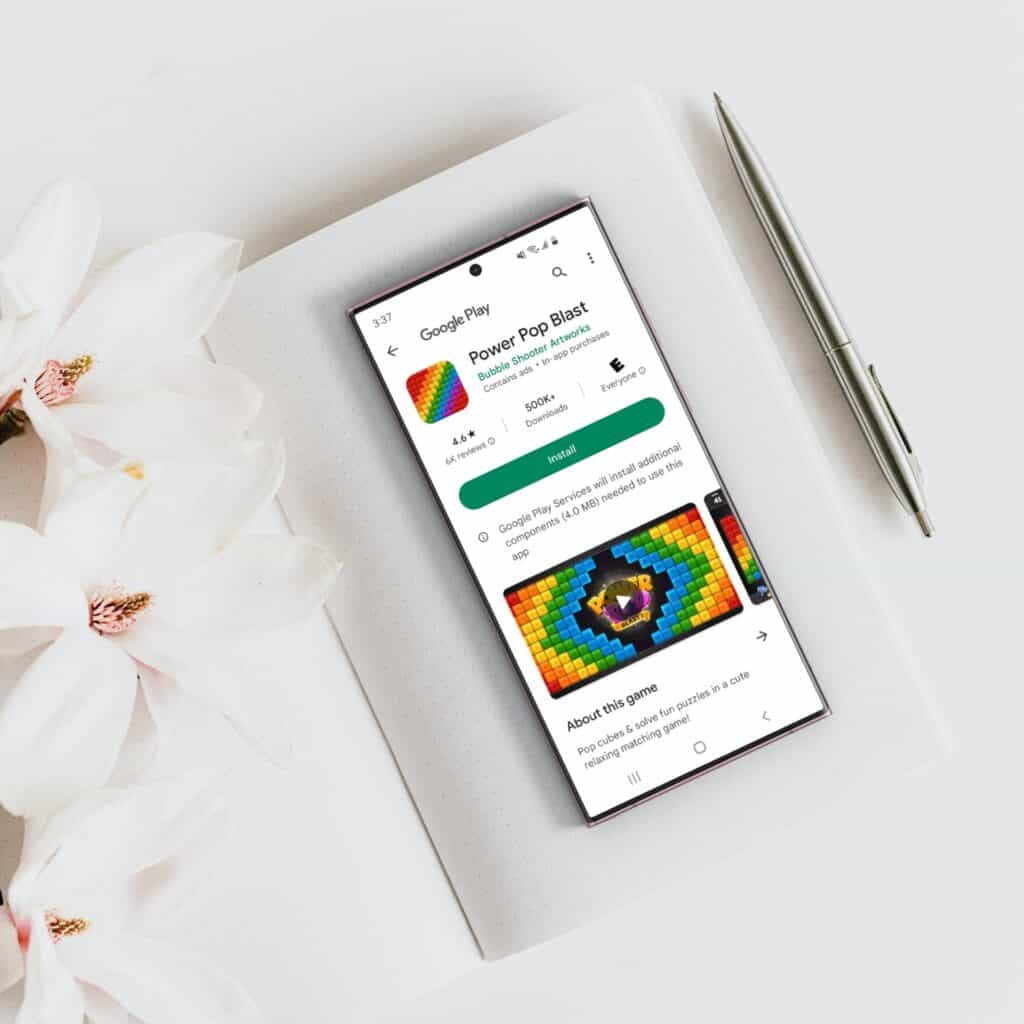 Puzzle game Power Pop Blast, developed by Bubble Shooter Artworks, is available to download for both iOS and Android devices. You must be a member of InboxDollars to earn an incentive for playing the game. Players match and pop bubbles of the same color to earn points and progress through the levels. The game features various power-ups to help gamers clear the board and earn more points.
How It Differentiates From Competition
Power Pop Blast features power-ups, a user-friendly interface, and ad-free gameplay.
How Payment Works
The payment process for Power Pop Blast works as follows:
Players must have an InboxDollars account and live in the United States.
Points can be redeemed for cash or gift cards through InboxDollars.
Payment – sent within a few days of the redeemed reward – is given out via PayPal or a gift card.
There is a $10 minimum balance requirement to redeem rewards. Check the terms and conditions for each offer, since reward opportunities can expire after a certain period of time.
Related: Solitaire Cash Review
Enjoy Popping Bubbles for Extra Money
There is a wealth of opportunities available for you to compete against other players for real money and prizes.
Remember to approach these games with an entertainment mindset, and don't expect to get rich quickly. Enjoy the experience and have fun while also making extra money, thanks to games like Bubble Cash.
Related: Free Bingo Games that Pay Real Money
We appreciate the time you've spent reading this post and your interest is not lost on us. Your thoughts, questions, or experiences related to the topic are most welcome. Each comment adds strength to our community. We ensure every comment receives our attention, and we take the time to provide thoughtful responses. Once again, thank you for being a part of this conversation. Click here to leave a comment.