35 Best Games That Pay Real Money in 2024
We foster relationships with brands we use and trust. The testimonials on our site represent real experiences, but they don't guarantee you'll achieve similar results. When you make purchases through our links to our partners, we may earn a commission. Your support helps us continue this work. You can read our full disclosure here.
Wondering if it's truly possible to play games that pay real money during your free time? I have researched, downloaded, and played numerous mobile games just to find the ones that legitimately pay off.
If you spend a lot of time gaming on your Android or iOS device, let me help you find opportunities to earn extra cash through real money earning games. All of them are absolutely free to download, play, and earn, and some even offer the opportunity to wager your skills in cash tournaments.
Apps With Games that Pay Real Money
1. Solitaire Cash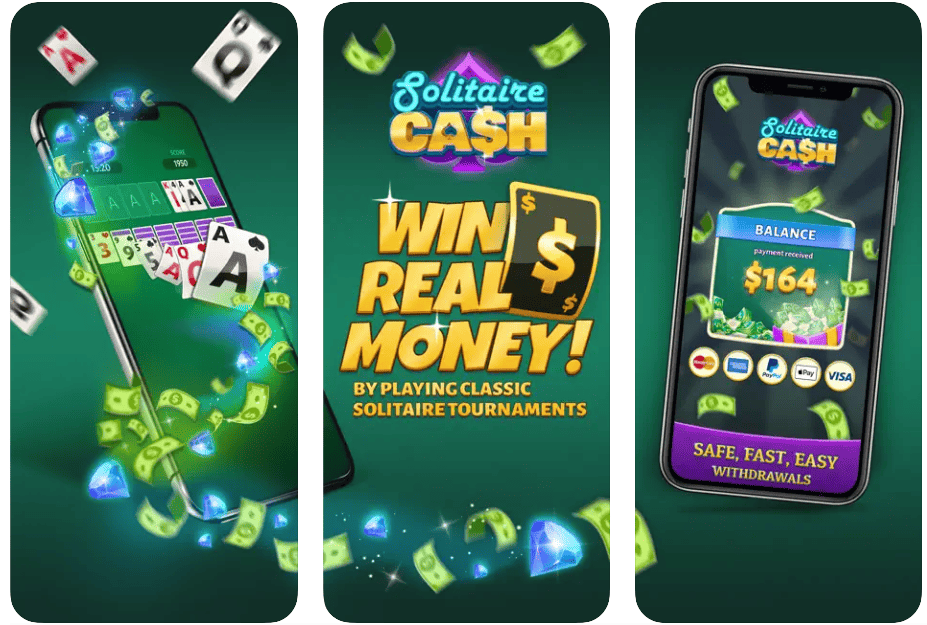 Solitaire Cash by Papaya Gaming takes real-money card games to the next level. Instead of wagering against chance, put your solitaire skills to the test right from your smartphone or tablet.
Papaya Gaming pairs two players who exhibit similar skill levels into a match where all cards dealt are the same. Players complete the typical solitaire game, and the one who earns the most points during the round wins the cash pot.
Playing practice rounds of Solitaire Cash is free worldwide, and most players can go on to play with real money when they feel ready. The app will equip you with the skills needed to win. Practicing low-wager rounds can help you find the best ways to maximize your bonus points.
Solitaire Cash is available from the Apple Store for iOS devices, and from the Samsung Galaxy Store for Android devices. There are no real-money solitaire games offered on Google Play.
With Solitaire Cash, withdraw your earnings securely to PayPal or Apple Pay. The app also offers daily gifts and bonuses, as well as trophies and larger prizes for dedicated players.
Solitaire Cash™ is FREE to download and play! However, cash tournaments are not available in: AZ, IN, IA, LA, ME, SC, MT & WA
Related: Solitaire Cash Review
2. Bingo Cash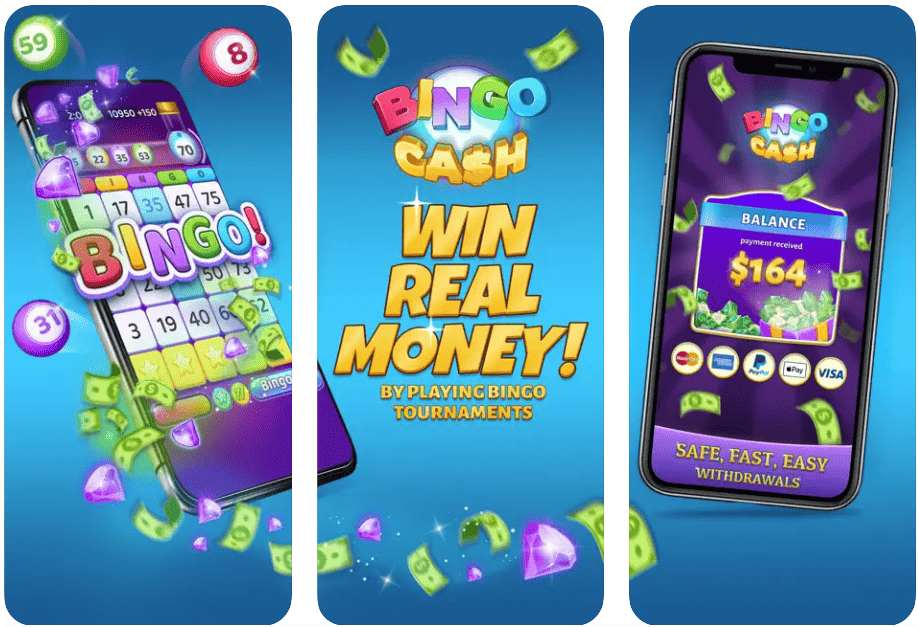 Papaya Gaming arranges bingo matches between players around the world based on their skill levels. When you download Bingo Cash and start playing for real money, you'll be matched with other players who are also just getting started. During the live matches, every player is given the same board, call numbers, and boosts. Whoever daubs the fastest and uses boosts to maximize their points will win the cash.
Don't search for an Android app on the Google Play store, because all you'll find are apps that claim to pay you to play bingo (but absolutely do not). Bingo Cash can only be downloaded to an iOS device from the Apple Store, or to an Android device from the Samsung Galaxy Store. More than 112,000 people have reviewed the app, and it boasts a stellar 4.7 out of 5-star rating across the board.
Any cash you earn with Bingo Cash can be securely withdrawn to your Apple Pay or PayPal account, which you can then transfer to your bank account. Take advantage of opportunities to win daily gifts, bonuses, and cash rewards, just for opening the app, as well as trophies and larger prizes for your dedicated gameplay.
Bingo Cash™ is FREE to download and play! However, cash tournaments are not available in the following states: AZ, IA, LA, SC & WA.
Related: Bingo Cash Review
3. Cookie Cash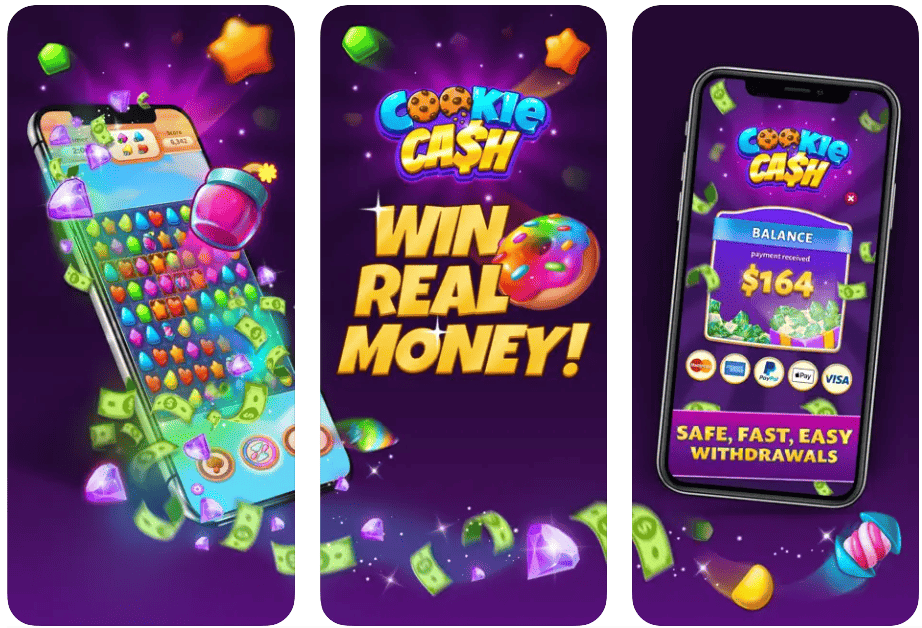 Since I'm a fan of the reliable platform Papaya Gaming, I couldn't resist trying their latest real money game, Cookie Cash. If you've ever been hooked on match-3 gameplay like Candy Crush, then Cookie Cash is definitely for you. The twist? Instead of just playing for fun, you can actually win real money with your quick thinking and matching skills!
For those unfamiliar with Cookie Cash, it's available for download as an iOS app from the Apple Store or as an Android app from the Galaxy Store. The game boasts a solid 4.5 out of 5-star rating among real users. There's a bonus cash incentive just for giving it a try! I dove straight into the game, playing a few practice rounds with gems. After quickly getting the hang of it, I used my bonus cash to play a round for real money. Since all the players in the round were also newbies, I stood a fair chance of winning – and I did! This victory gave me even more cash to play with.
The goal of the game is to be the first to achieve the target set at the beginning of each round. So, make sure to focus on the colors you need right from the start. When you receive Boosts, you can use them on the colors you need to crush the most! Not only is this game a lot of fun, but the ability to win real money is a fantastic perk. If you find yourself on a winning streak, you can deposit real cash to play for larger cash pots. Give Cookie Cash a try for free.
Cookie Cash is FREE to download and play! However, cash tournaments are not available in the following states: AZ, IA, LA, SC & WA.
Related: Cookie Cash Review
4. Bubble Cash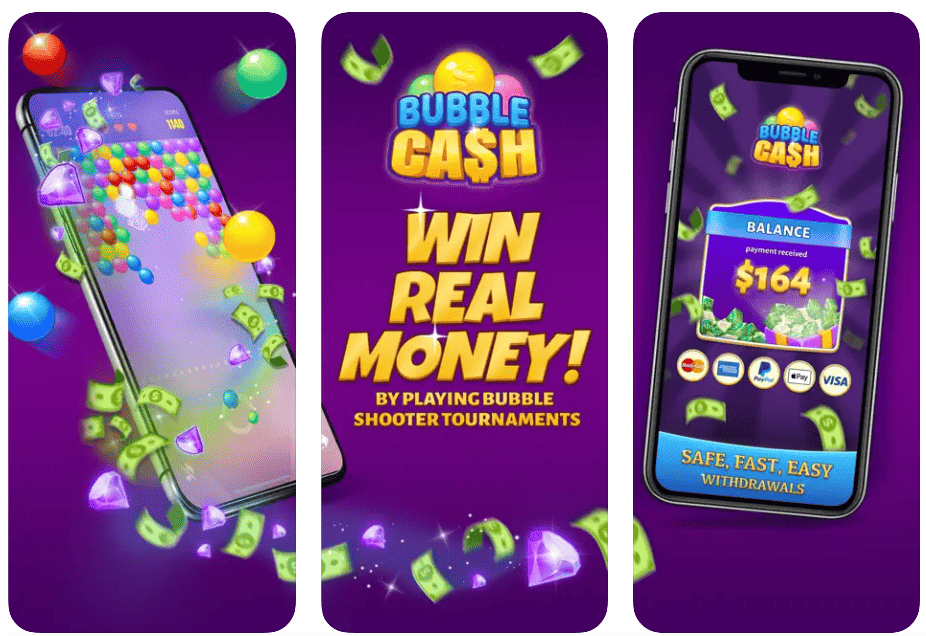 As a new Bubble Cash player, start by practicing via the free rounds. And if you don't feel like you have the necessary skills to beat your opponents, you'll never have to pay money to keep playing. But for the avid gamer who wants to earn cash, you'll have to pay up front to play live rounds for the chance to win extra money.
Papaya is a trustworthy platform that offers a plethora of games that pay real money. Instead of leaving the house, put your gaming skills to the test virtually, and win rounds of Bubble Cash, fair and square. You'll have a 50/50 chance of winning every time you make a wager. Improve your bubble shooting skills to get paid to play games.
Bubble Cash is FREE to download and play! However, cash tournaments are not available in the following states: AZ, AR, IA, LA, MD & SC.
Related: Bubble Cash Review
5. Blackout Bingo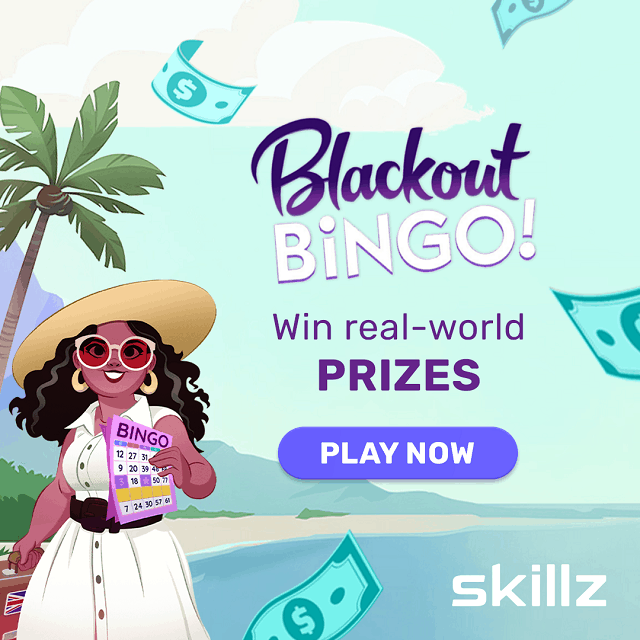 Blackout Bingo is one of the best apps on the market, and it pays gamers real money to play. Developed by Big Run Studios, it boasts a 4.5 out of 5-star rating and over 99,000 reviews on the App Store and Galaxy Store. You can enjoy short 90-second rounds while lounging in bed, during your lunch break, or simply in your spare time.
Enter the Skillz promo code APget5 and get FREE bonus cash with your first $5+ deposit.
Travel the world with your avatar, climbing up the ranks in this new way to earn cash. The best game apps, like Blackout Bingo, will match you with other real players at your skill level, making it a fair match every time. Winners of the bingo competitions can collect cash and prizes like gift cards, electronics, kitchen gadgets, and even boats and cars! Get to know the game's unique features, such as boosts and speed bonuses, to enhance your winning potential.
Cash out your Blackout Bingo winnings at any time via a physical check (in the United States) or PayPal (internationally).
Please Note! Cash tournaments are available in most of the world. Cash tournaments are not enabled in the following states: AR, CT, DE, IN, LA, ME and SD. If you don't live in a prize-enabled region, you can still play for free.
Related: Blackout Bingo Review
6. Solitaire Cube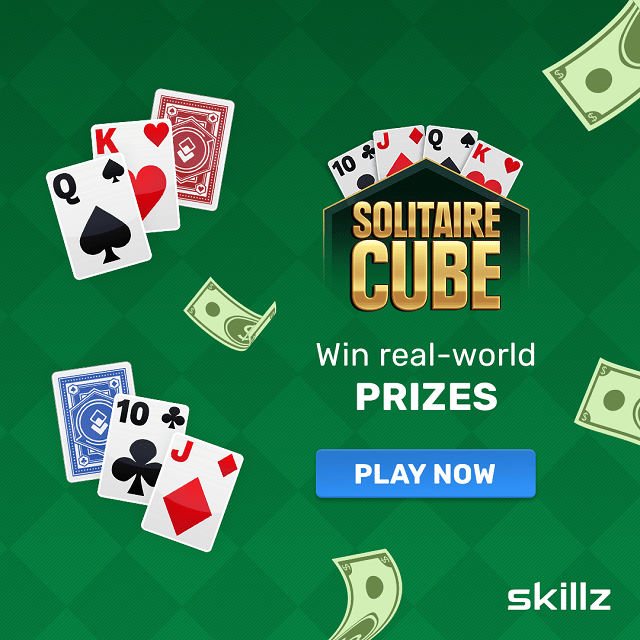 During my research, which of course included a lot of trial and error, I found Solitaire Cube by Tether Studios to be the ultimate solitaire gaming app. Play against a real opponent, who is dealt the same cards as you. Whoever finishes the game first before the time runs out wins.
Enter the Skillz promo code APget5 and get FREE bonus cash with your first $5+ deposit.
Play Solitaire to win real money or try it just for fun. You can also compete in tournaments for an even bigger earning potential. The quicker you can complete your games, the more rounds you can win.
When you're ready to redeem your winnings on Solitaire Cube, request a payout via paycheck in the U.S. or PayPal internationally. This app holds a 4.6 out of 5-star rating among 99,000 reviewers and is available on Android and Apple devices, including tablets.
Please Note! Cash tournaments are available in most of the world. Cash tournaments are not enabled in the following states: AR, CT, DE, IN, LA, ME and SD. If you don't live in a prize-enabled region, you can still play for free.
Related: Solitaire Cube Review
7. Cash Giraffe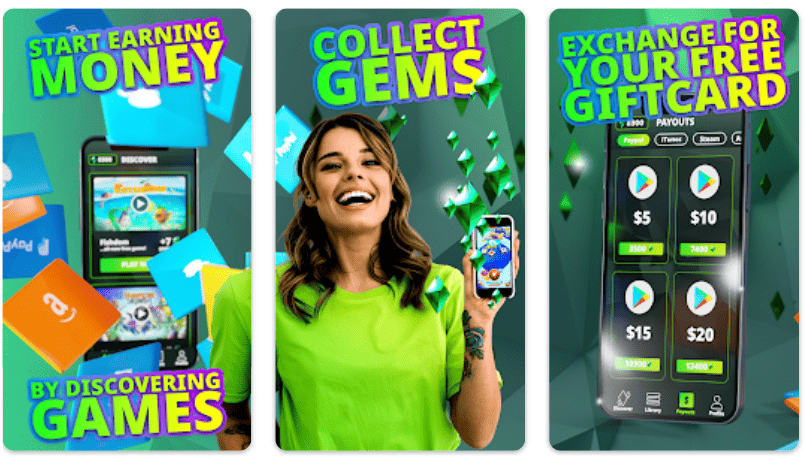 Cash Giraffe ranks among the top three free lifestyle apps on Google Play. It actually pays really well compared to similar apps that incentivize people to try new games.
There are no requirements to reach specific levels, make in-game purchases, or complete specific tasks. You earn gems simply by playing fun games and then exchange them for PayPal cash or gift cards to stores like Amazon, Walmart, and Google Play. The longer you play, the more cash you receive.
After my first week of causally playing games on Cash Giraffe, I had earned over $20. It's even more motivating when you invite friends to play and earn together. Here are some of the Cash Giraffe games you can play for real money on your Android device:
Coin Master
Coin Master lets you build your very own Viking villages. Spin to earn money, attack and raid fellow Vikings to gain even more coins, and get rewarded in gems for the time you spend playing. Collect cards and treasure along the way and compete with friends as you have fun playing Coin Master. As long as you download the game through Cash Giraffe's link to the Google Play Store, you can play and earn.
Match Masters
Go head-to-head with other players around the world in match-3 battles. Winning doesn't affect your earnings in Cash Giraffe, but it's hard to play and not enjoy the thrill of winning in Match Masters. You can collect daily gifts, power-ups, and bonuses to make your gameplay even more exciting. You'll enjoy coming back to this game every day to earn extra cash.
Candy Crush Soda Saga
Another match-3 game that doesn't require a deposit to earn real money, Candy Crush Soda Saga is colorful and entertaining. You can get lost in its vast levels of games as you move up the ranks. Cash Giraffe will pay you to play as much or as little as you want. The more you play, the more you earn in PayPal cash or gift cards.
8. Swagbucks
Swagbucks is an app (and website) that pays you for completing many different, easy tasks, including playing free money-earning games, watching videos, searching the web, and much more. Many positive reviews rave about the large variety of games available on the membership site, developed by numerous trusted game developers.
Swagbucks primarily pays users to download apps and play their favorite games on their mobile devices. Some popular games include:
Puzzles Conquest ($237.30)
In Puzzles Conquest, players set out on an exciting adventure to build a powerful kingdom, collect essential resources, and unlock a vast terrain. The game requires players to tackle different levels of opponents by solving intricate puzzles to initiate attacks and cleverly recruit the assistance of their heroes.
Earning money playing Puzzles Conquest is made possible by Swagbucks. To take advantage of this opportunity, players must first join Swagbucks and download the free app called Puzzles Conquest through the member portal. By reaching specific milestones within the game, players can earn up to 23,730 SBs, which are equivalent to $237.30.
Grand Mafia ($100)
Play Grand Mafia to earn a whopping 10,000 SBs (worth $100) on Swagbucks. Build up your avatar to become a mafia boss. Reach Mansion Level 25 within 30 days of installing the app.
RAID Show Legends ($50)
As a RAID Show Legends player, you can earn 5,000 SBs (worth $50) when you summon two sacred shards within the first 30 days. Your Swagbucks account will be credited with earnings that can be redeemed for gift cards or a PayPal deposit.
Related: Best Apps to Play Rummy for Money
9. InboxDollars
InboxDollars pays you to do a variety of tasks like playing games.
This free site connects you with gaming companies that need players. Choose from the large selection of games that pay real money.
West Game ($60)
West Game pays real money to InboxDollars account holders. This Wild, West-themed game is perfect for players who enjoy shooting games and cowboy style avatars.
Earn $60 from West Game once you complete level 17 within the allotted time frame.
Mafia City: War of Underworld ($70)
Mafia City will give you the chance to live the virtual mafia life. Have it all – from money, to fancy cars, to giant mansions. Receive a $70 reward when you download the game for the first time through InboxDollars and play.
Rise of Kingdoms ($75)
Rise of Kingdoms consists of wars fought to conquer the entire virtual world. Your earnings will be added to your InboxDollars account once you have reached level 18, but this must be done within 21 days of downloading the game. Once this has been completed, $75 will be credited to your account.
InboxDollars Games (Unlimited Scratchcards)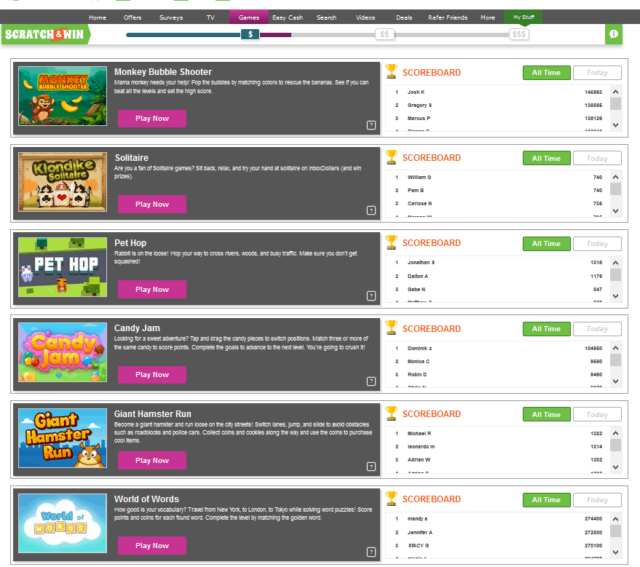 It's fun to play the games hosted on InboxDollars, such as Candy Jam, Mahjongg Dimensions, Word Wipe, and Monkey Bubble Shooter. You won't be paid a set amount of cash for playing, but will instead earn scratch cards that you can scratch for the chance to win real money instantly.
For example, it takes only four minutes of playing Candy Jam to earn your first scratch card. You can scratch immediately or continue to build your chance to win more money by scratching your cards later.
Related: Get Paid to Play Mahjong

While the highest prize available on those scratch cards is $100, it is rare to win that amount. But if you're looking to earn some extra cash while playing games for fun, this is an easy place to start. The best part is, you don't have to wager any cash to play – and every scratch card wins real money!
Related: Online Word Games for Money
10. Mistplay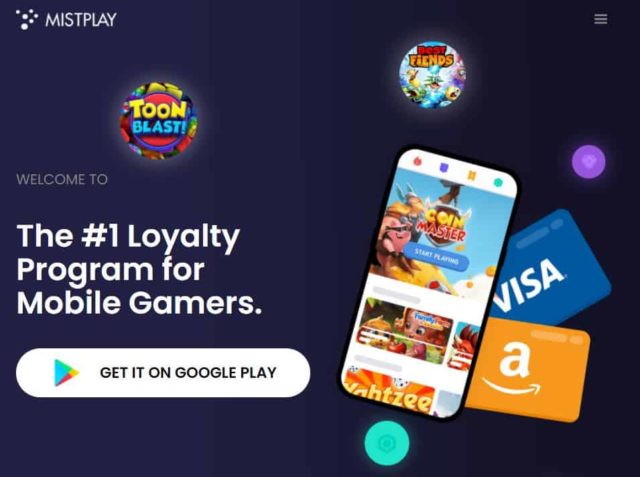 Mistplay is a "loyalty program for mobile gamers." This app is currently available on only Android devices.
The basic gist is that Mistplay connects the brains behind notable games with new players. The app recommends playing certain Android games to earn real money.
As a Mistplay member, test and play all kinds of new games in return for reward points called units that can be redeemed for free gift cards, including a Visa cash card.
The more time you spend on a game, the more opportunities you'll have to earn money. You can rack up hundreds of points for every Mistplay game you play; every 1,500 points equals a $5 gift card.
There are many cash games to choose from, but some speedy earners include:
EverMerge
EverMerge is an addictive game available to play on Mistplay. Its fun virtual land continues to expand as you merge items together and unlock new realms. Within this world-building puzzle game, complete quests to reveal new lands with a little bit of strategy.
Family Island
Step into the shoes of a family left to thrive on a deserted island. You'll spend time farming, building, and cultivating a home for your family. It's a relaxing opportunity to earn some extra cash through Mistplay while exercising your virtual survival skills.
Learn more about the app in our Mistplay review.
11. Kashkick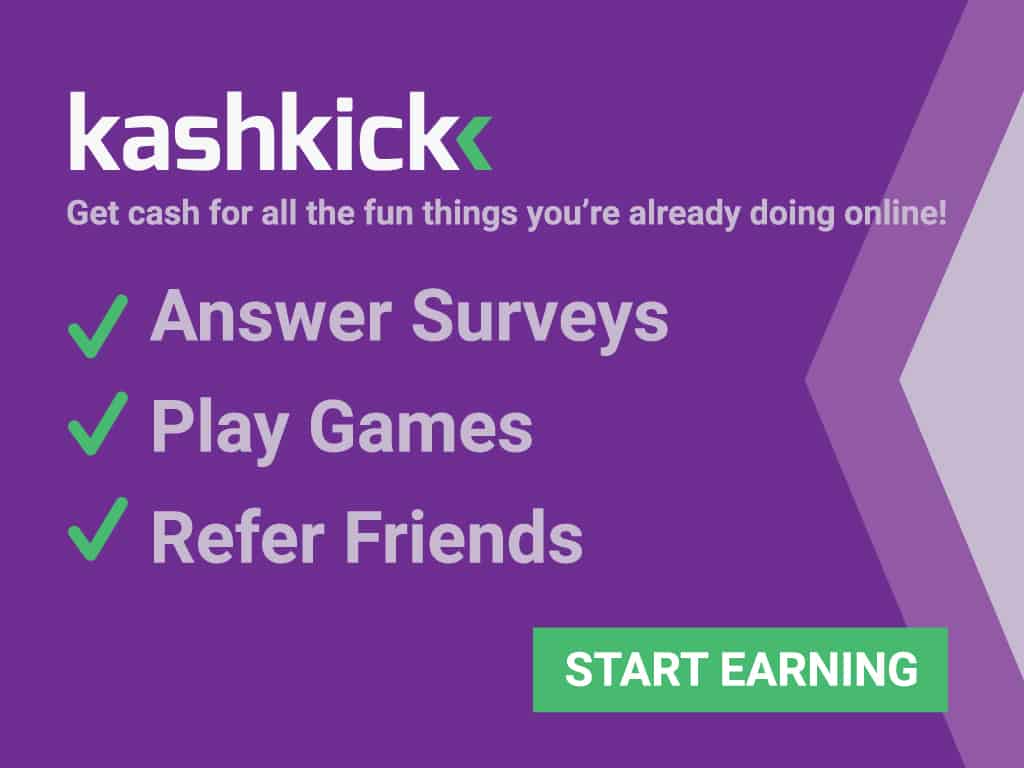 Kashkick is an online rewards platform that pays users to complete various small tasks like playing games. Become a member for free to start enjoying offerings like Wordscapes, Puzzles & Survival, Board Kings, and Dice Kings, and start earning real money.
Request a PayPal payout once you've earned at least $5. It's free and easy to sign up for a Kashkick account. You must be at least 18 and live in the U.S. to join. Existing users have raved about the fun and easy games that pay real money on Kashkick.
12. TesterUp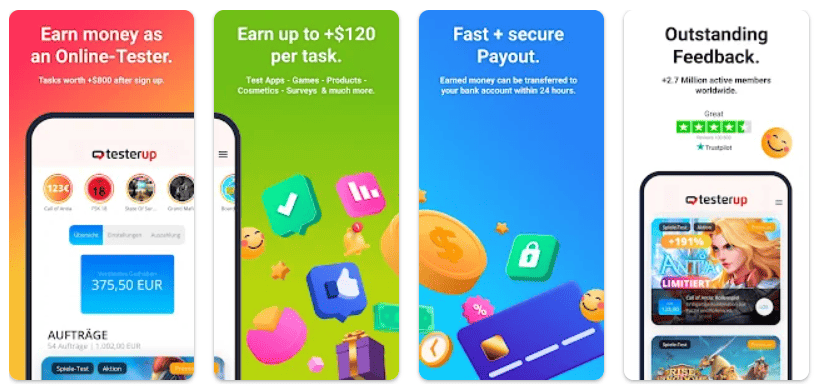 Available for both iOS and Android devices, TesterUp will pay you to test games on your phone. As soon as you download and join the app, you'll be met with a list of fun games to choose from, such as Yahtzee with Buddies ($42.50), Dragonscapes ($110.50), The Ants: Underground Kingdom ($89.35), and Township ($96.50).
There is a variety of genres to choose from, whether you enjoy games of chance, skill, or conquest. Keep in mind that each test is assigned a time limit, and you will need to reach specific checkpoints and levels to earn real cash rewards. You can cash out your earnings when you reach a minimum balance of $70.
13. Big Buck Hunter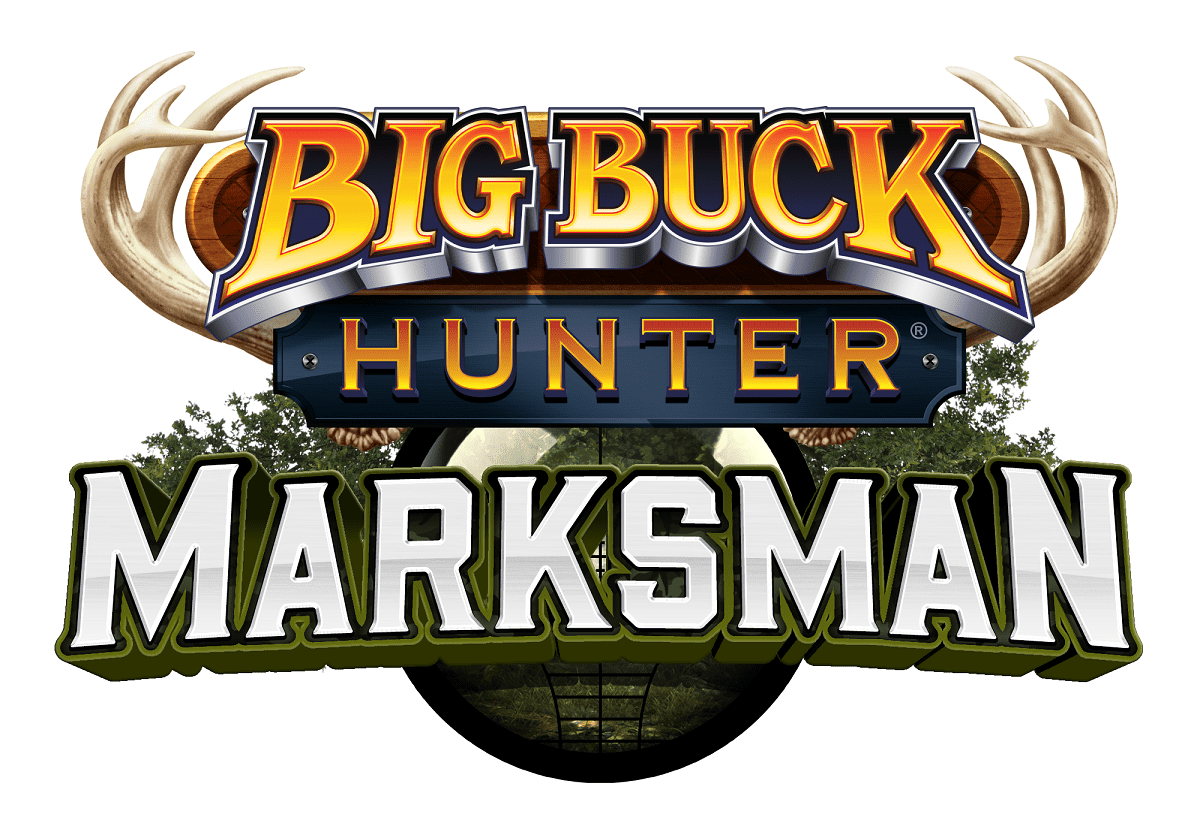 Play Big Buck Hunter to get real money. In the app, you accumulate points for your shooting skills meaning the further away from the target you shoot, the better your score will be. If you have good aim and actually hit the target, you increase your profile to get awarded the Marksman award.
To get paid to hunt, you will need to join the Big Buck World Championship and play against other opponents. Increase your points by aiming for the head and heart of the deer, which are often difficult areas to land an accurate shot. The more your skills are needed, the more points you will earn.
As a championship winner, you can get your rewards through the company that runs Big Buck Hunter. Skillz will contact you to determine where to send your chosen reward.
Enter the Skillz promo code APget5 and get FREE bonus cash with your first $5+ deposit.
Please Note! Cash tournaments are available in most of the world. Cash tournaments are not enabled in the following states: AR, CT, DE, IN, LA, ME and SD. If you don't live in a prize-enabled region, you can still play for free.
14. Pool Payday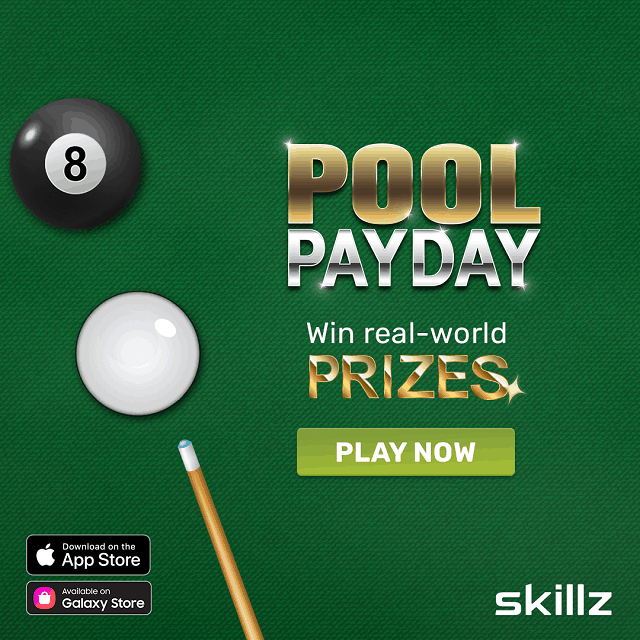 Pool Payday offers the unique concept of playing pool with a Solitaire twist. Take on other players live, or invite your family members and friends to play with you.
Compete with others to win real cash prizes, virtual currency, or Amazon gift cards. You will win extra points each time you score in this pool game. Using features like a trick shot is a great way to gain even more points, which will be tallied at the end of each round. The highest score will determine the winner.
Pool Payday is one of the top Skillz games that pay real money. Earn more points than your opponent to win real cash. The app is available on both Apple and Android devices.
Use the Pool Payday promo code "APget5" to receive bonus cash when you make your first deposit.
Enter the Skillz promo code APget5 and get FREE bonus cash with your first $5+ deposit.
Please Note! Cash tournaments are available in most of the world. Cash tournaments are not enabled in the following states: AR, CT, DE, IN, LA, ME and SD. If you don't live in a prize-enabled region, you can still play for free.
15. 21Blitz
21Blitz is perfect for blackjack and solitaire enthusiasts. This app offers a combination of these two games, but it puts its own twist on the classic versions to make it unique.
Download 21Blitz to play against real people to compete for top leaderboard status. Practice playing for free to hone your skills, and then go on to play to win real money when you feel ready. 21Blitz offers a fun way to use your math and card game skills to earn real money.
I enjoyed exercising my math prowess while playing some real money rounds of 21Blitz on my phone. The object of the game is to clear the decks by stacking cards that add up to 21 or less (without going over). The closer you come to 21, the more points you will earn.
Make money playing games like 21Blitz by competing with other players. Your real money earnings from playing blackjack can be withdrawn in the form of a physical check in the U.S. or via a PayPal deposit internationally. You can also earn tickets that can be exchanged for big prizes like a car, TV, and various electronics.
Enter the Skillz promo code APget5 and get FREE bonus cash with your first $5+ deposit.
Please Note! Cash tournaments are available in most of the world. Cash tournaments are not enabled in the following states: AR, CT, DE, IN, LA, ME and SD. If you don't live in a prize-enabled region, you can still play for free.
16. Dominoes Gold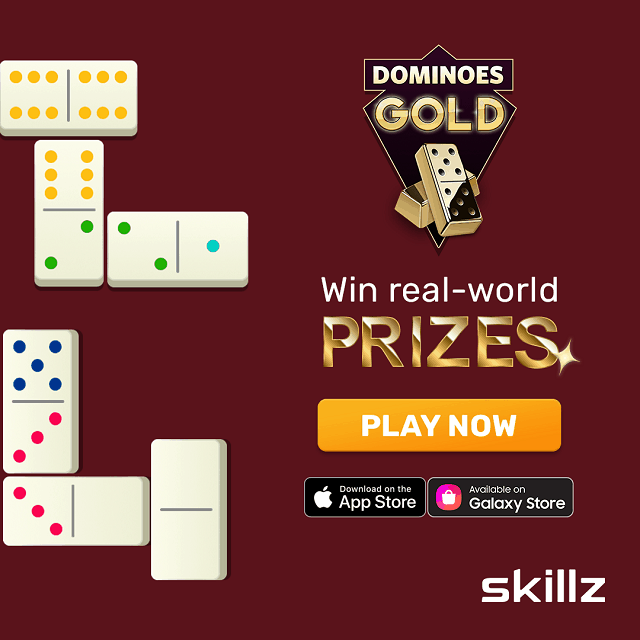 Dominoes Gold is a dominoes game app that brings this classic game to life in a new and different way. Earn points every time you lay dominoes that add up to multiples of five.
Use the competitive gameplay feature to play with friends and compete for big prizes and money. When you're ready to cash out your earnings, your money will be sent to you via paycheck in the U.S. or PayPal deposit internationally.
Other larger prizes include free Amazon gift cards, cars, watches, and more. Download the app on an iPhone or Android to start playing to earn. Enter the Dominoes Gold promo code "APget5" prior to depositing cash for the first time to receive bonus money .
Enter the Skillz promo code APget5 and get FREE bonus cash with your first $5+ deposit.
Please Note! Cash tournaments are available in most of the world. Cash tournaments are not enabled in the following states: AR, CT, DE, IN, LA, ME and SD. If you don't live in a prize-enabled region, you can still play for free.
17. MyPoints
MyPoints can be a great place to find a diamond in the rough. It offers a number of games that you can play in exchange for points. Each game has requirements, such as reaching various levels or checkpoints within a given time limit, in order to earn.
Once you accumulate at least 2,370 points, you can cash out for an Amazon, Apple, Google Play, or Starbucks gift card. There are other options available, and both rewards and available games can change at any time. So, make sure to check back when you're looking for new ways to get paid to play games.
18. Gamehag
Gamehag rewards members with Soul Gems just for playing games. After you earn Gems, you can exchange them for a Visa or MasterCard (to use in any store in person or online) or an Amazon gift card. These digital rewards have real monetary value that you can use to buy the things you want or need.
Additionally, you can use your Gems to get free Steam Codes, Robux, Crypto Vouchers, and much more. Sign up with Gamehag for free to start earning real money for playing the games you love.
19. Idle-Empire
Idle-Empire is another lesser-known site that rewards members for playing new games. Each game has different requirements and pays a unique number of points when you meet them.
The games don't pay well, but the idea is to have fun while you earn a little extra spending money. You can cash out your earnings via Payoneer or Bitcoin when you earn at least 1,000 points (worth $.10). If you prefer to play games that pay instantly to PayPal, you'll need at least 30,000 points (worth $3).
20. iRazoo
iRazoo is another platform that will pay you to take surveys, watch videos, download apps, and play real money earning games. It offers many interactive games like solitary, crossword, and Mahjongg Dimensions, and you will receive iRazoo points for every game you play. The more time you spend on a game, the more you can earn.
To be paid, you will need to have a minimum of $20 in your account to receive cash; if you are willing to accept a gift card, the minimum cashout amount is $5. The gift card option is only available in the United States and Canada, and the app is also available only in select countries.
Other Ways to Get Paid to Play Real Money Earning Games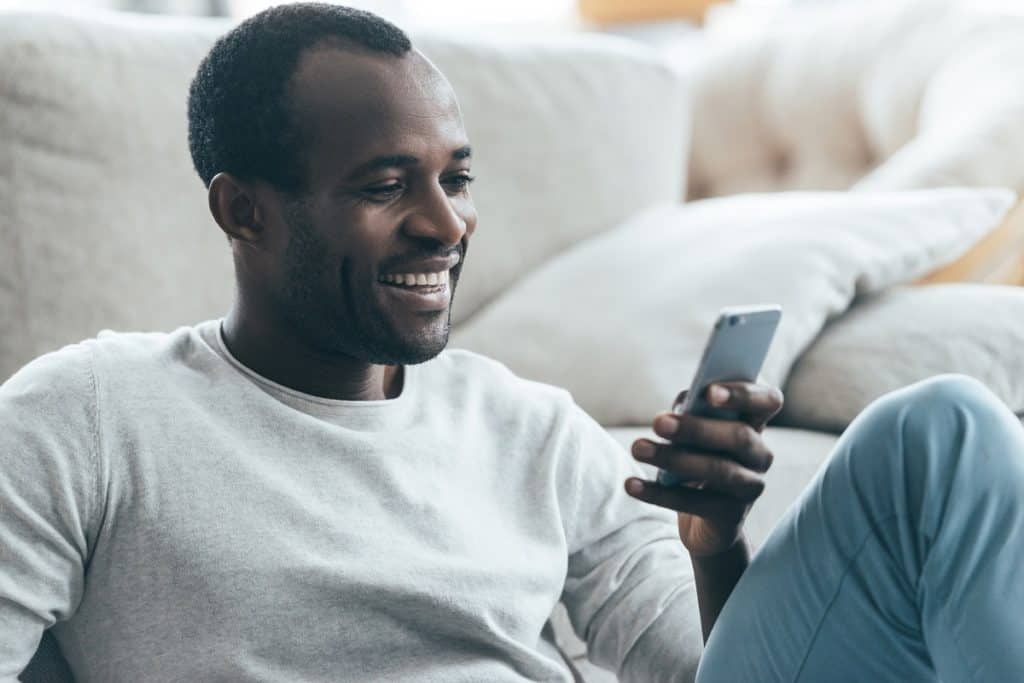 While rewards apps do provide a good way to earn money while playing games, a limitation they all have is the fact that you can only play the listed games.
If you already have some favorite mobile or console video games that you play on a regular basis, then turn that passion into a money-making venture.
21. Start a YouTube Channel or Twitch Stream
If your gaming skills are exceptional, or if you're a great entertainer (or both), consider creating a gaming YouTube channel or becoming a Twitch streamer. Either of these options could provide you with the perfect way to earn money playing games.
All you need to get started is a good PC/gaming console, a camera, and an internet connection. Any additional items can be purchased along the way.
Get paid to play Fortnite, Minecraft, Warzone, or even Mario Party. Draw in your audience and build a following over time with the excitement and skill you bring to the screen.
Many people have been deterred from taking this method by the myth that you cannot make money unless you grow a massive audience.
In reality, you can start earning right away, with tips that your fans can give you via YouTube's Superchat and Twitch's cheers. Alternatively, Patreon is a good option if you can build a small but loyal fanbase. Think of it as getting free money for something you already enjoy.
Once you reach a substantial number of followers, your earning potential will be limitless. Bring in income from ads, brand endorsements, affiliate sales, merch, and more.
Related: How to Get Paid to Play Minecraft
22. Places Bets on Sports Teams
Live Sports betting has been a popular income strategy for many years. While this is not something that I personally do – and I don't recommend frivolous betting – my husband has made some real money by placing small bets on sports games over the years. He is a die-hard sports fan and doesn't place bets without feeling confident in his knowledge of the teams and players involved.
The eSports industry is booming, and thanks to the technology available today, you don't have to know much about the teams or individual players in order to make money watching sports and placing bids.
Check out apps like FanDuel and DraftKings to start placing bets. Remember that this strategy to earn money on game wins – like any other bet or investment – does come with a risk.
23. Start a Gamer Review Niche Site
A niche site is an online website that can be used to discuss ideas, information, opinions, reviews, and more.
Blogs, for example, often fit into niches. In fact, the blog that you're reading right now is in the personal finance niche. And there are also many blogs within the gaming niche. If you like to write and understand gaming, blogging about gaming could be a great option for you.
A gaming niche site could include anything game-related, including reviews, information, playthroughs, strategies, tutorials, and news. This is one of the most lucrative ways to play games for real money.
All you need to start a niche site is a domain name, web hosting, WordPress, decent writing skills, and knowledge about your niche. It is much easier to start a website if you stick to a topic of interest in which you're genuinely intrigued If you're already a gamer, writing about your hobby will be far more enjoyable for you than writing about a random topic.
Like streaming, you don't need a huge number of readers in order to make money with a niche site. You can start earning with a smaller audience pool using methods like affiliate marketing.
24. Play Games While House or Dog Sitting
House sitting and dog sitting are popular ways to earn a side income. This involves looking after other people's property or pets while they're away.
House and dog sitting are passive, not active, jobs. If you want to earn more money while you are simultaneously taking care of another person's home or pet, then bring your games along.
With this method, you can either play games for money on the apps mentioned above or utilize your time to write or create content for your channel/blog.
Use Care.com to find house or dog sitting gigs in your local area, and then make extra money by playing games as you fulfill your commitments.
25. Become a Freelance Gaming Photographer
Digital and print publications often use professional photographs that are purchased from paid stock photography sites like Shutterstock. Become a contributor and add your photos to make money as a gamer. You will earn a commission every time someone downloads your photo.
Related: More App Like Mistplay
26. White Label Your Own Line of Gaming Gear
Gaming is a billion-dollar industry that won't be going away any time soon. Get in on that wealth by selling your own line of gaming gear to earn $5,000 per month or more.
Since choosing the right gear to sell requires hands-on testing, you'll need to play plenty of games during this venture.
Start with items you're most familiar with, like headsets, keyboards, or comfortable gaming chairs. You can grow your business and later add new items to your online storefront.
To white label and sell gaming gear, set up a store on Shopify or get started selling on Amazon FBA.
27. Set Up Local Gaming Tournaments
If you're already a seasoned gamer, you're probably familiar with the concept of local gaming tournaments, where you and your friends can compete for prizes and fame.
Organize local gaming tournaments and invite your friends, neighbors, and other local gamers to come out and play real money-earning games. This is a great way to make extra cash, as well as meet new, like-minded people in your area.
The easiest business model to reference as a way of earning profits via local gaming tournaments is to charge an entry fee.
If your tournament is big enough to catch some eyeballs, it could even attract a local sponsor.
Meetup.com and reddit.com can help you meet other gamers, as well as potential participants for your tournament.
Even if you don't want to go through the hassle of organizing a tournament yourself, you can still take part in local gaming events. Gaming tournaments are usually posted on social media platforms and on regional websites.
28. Flip Gaming Gear Online
Unlike the other ideas in this blog, flipping gaming gear is not a way to earn money to play games. But it is a great game-related side hustle if you're looking to make some quick bucks online.
Since you're probably already a gamer and might know other gamers, it will be pretty easy for you to flip gaming gear online.
Your knowledge and familiarity with gaming equipment can help you select high-quality inventory and turn a good profit.
Resell gaming gear on eBay, Facebook Marketplace, Craigslist, and more, or open your own online store with Shopify or any other eCommerce provider. If you go the latter route, you will need to deal with online store charges and the cost of marketing your store.
29. Become a Game Tester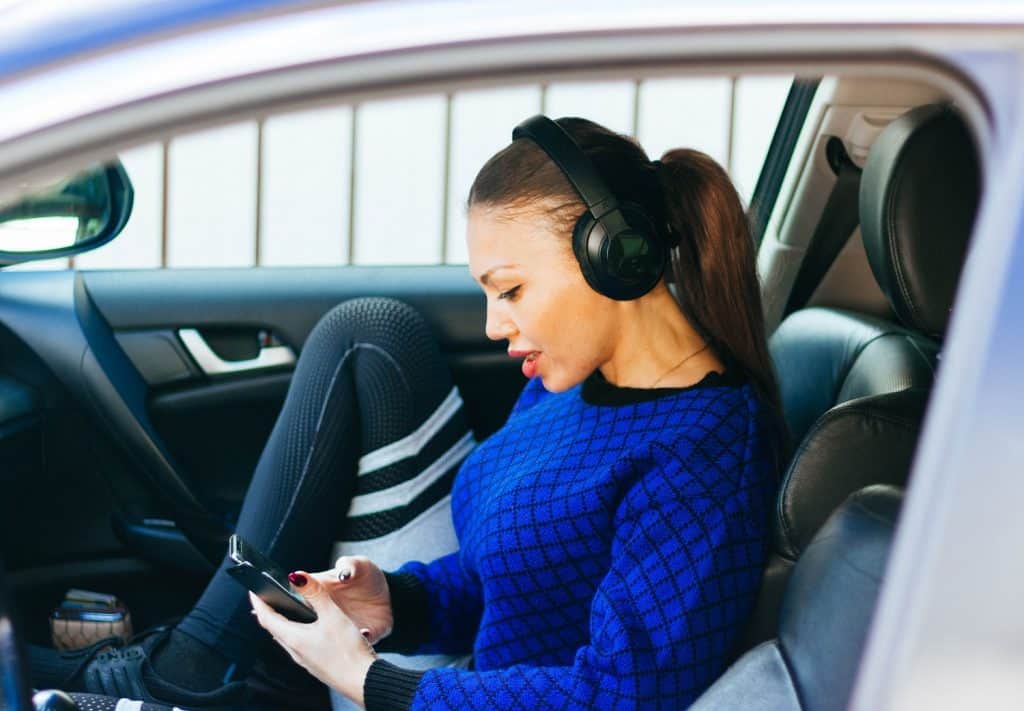 Companies like Warner Bros. Entertainment Group, Nintendo, and FutureProof occasionally hire game testers. Search their job listings for current openings.
Testing games can often be done from home, but may require contractors to provide their own gaming gear. Read the requirements for each position before you apply.
While testing games may sound like the dream career for an avid gamer, the position can get monotonous and intense when done long term. And since you'll be doing more than just playing for fun, you may find yourself repeating levels over and over to pick apart potential problems within the games, like glitches and inconsistencies.
30. Become a Gaming Influencer
Gamers purchase new gaming gear based on referrals and reviews. There are always choices to make, and gaming influencers can help sway followers depending on personal preference and experience.
Become a social media influencer and build an online community in which to share deals and compare the latest gaming tech. When you partner with different brands, you can earn a commission for the products you recommend and sell – without ever dealing with inventory.
31. Level Up and Sell Your Gamer Accounts
For many people, starting from level one can be a pain. That's why there's a market for buying and selling game accounts. Runescape and Golf Clash are just two of many games for which players purchase existing accounts. If you enjoy spending time leveling up in games, you could potentially sell your accounts later.
32. Start a Gamer Forum
Gamers love to search for shortcuts and cheats for the games they play. They also enjoy chatting with fellow players just for fun. Consider starting an online forum for those avid players.
Start by focusing your forum on one game. As the forum becomes popular, you can add additional games that are similar to the original.
33. Design Gamer T-Shirts
Gamers love to show off their interests by wearing T-shirts displaying short quotes or graphics related to their favorite games. You can make money writing slogans that relate to gamers, designing T-shirts using those slogans, and selling them on a platform like Printify.
Share your designs with fellow gamers and get your friends to post about them on social media. Over time, one great T-shirt design could earn you a hefty passive income.
34. Trade Game Currency
Some gamers make money trading currency within their favorite games and then selling that money online for real cash. A game like Runescape, for example, has its own economy. When the supply of a rare item goes down, the price goes up, and vice versa.
This could be a great gig for you if the idea of investing in items using game currency, selling them later for a profit, and then cashing in your game money for real money appeals to you.
Related: How to Make Money in the Metaverse
35. Design Digital Products for Gamers
Digital products like eBooks and online courses can be very lucrative. You only have to create them once, and then you can sell them over and over.
As an avid gamer, you could create an in-depth guide or video tutorial to sell to your fellow gamers. If your digital product is good, sales will increase over time by word-of-mouth recommendations.
Can You Get Rich Playing Real Money Earning Games?
Regardless of which method you use, you probably won't become a millionaire playing real money games –at least not any time soon. While the top 1 percent of gamers achieve remarkable success, generating tens of millions in revenue, it is important to remember that they have earned their position among the elite.
All of the methods mentioned above can bring in extra part time income every day, but if you are hoping to turn gaming into a full-time career or become a millionaire, you will need plenty of skill, a lot of hard work, patience, perseverance, and more than a little bit of luck. In fact, you would need to find yourself streaming video games in front of thousands of viewers or integrating different ways to monetize your love for gaming, such as white-labeling gear or affiliating with some of the biggest players in the industry.
Now it's time to try your hand at using any of the above mobile app games that pay real money. You might be surprised by how much fun you'll have with them. Just make sure to be aware of any entry fees and in-app purchases you make, so you always know how much money you've actually earned at the end of the day.
Related: Bubble Shooter Games for Money to Play on Your Phone
We appreciate the time you've spent reading this post and your interest is not lost on us. Your thoughts, questions, or experiences related to the topic are most welcome. Each comment adds strength to our community. We ensure every comment receives our attention, and we take the time to provide thoughtful responses. Once again, thank you for being a part of this conversation. Click here to leave a comment.